The Mistletoe and Pine Cone Wreath Project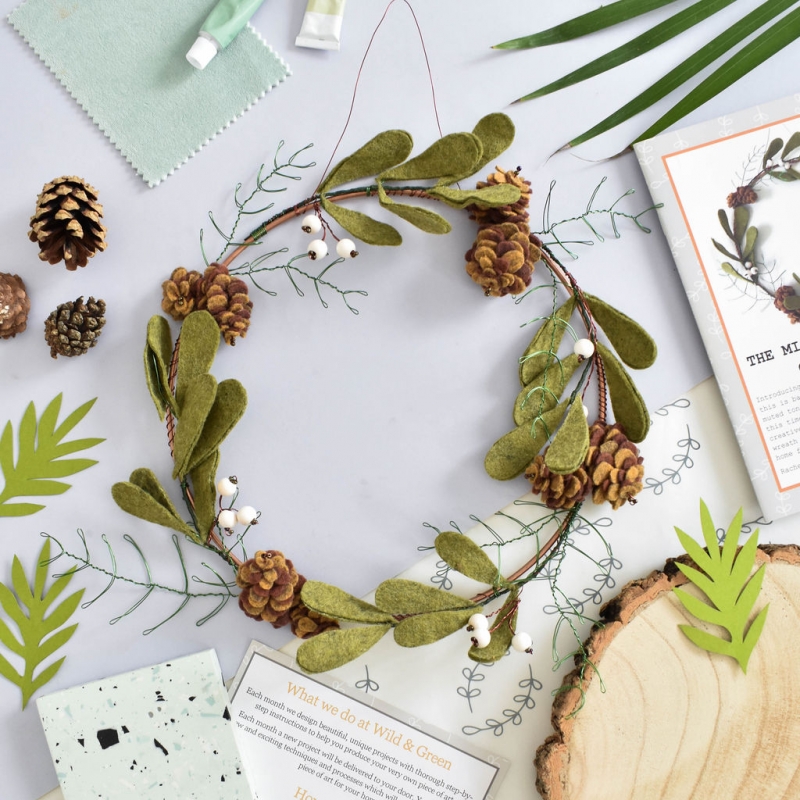 Click an image to enlarge
Introducing our beautiful Mistletoe and Pine Cone Wreath Project.
THIS PROJECT IS ALSO AVAILABLE AS A ONE OFF PURCHASE, or sign up to our subscription for more savings.
As the name of our business suggests we love all things natural and we can be found every day in the mountains and forests near where we live along with our gorgeous border collie Willow. This time of year is full of muted green and brown tones and the light gives everything a golden hue. So it was apt that we decided to do this wreath to echo the colours and plants in the environment.
This project combines cutting and gluing, wire work and construction with a soft, muted colour palette.
You will learn new skills and produce your own artwork ready to hang on the wall of your choosing in time for the holidays.
WHAT YOU WILL RECEIVE IN YOUR PROJECT BOX;
* A thorough step-by-step instruction booklet
* A template sheet
* A selection of premium felt
* A copper hoop
* PVA glue
* Embroidery scissors
* A reel of premium golden brown craft wire
* A reel of premium darg green craft wire
* A Needle card a pin
* A white gel pen
* White wooden beads
* Dark green floristry tape
* Brown metallic seed beads
WHAT YOU WILL LEARN…
* To cut and construct 3D pine cones
* To cut and construct mistletoe stems using mixed media
* How to manipulate and create delicate wire leaves
* To create a delicate mixed media piece of art
* To make some time to relax, get creative and make some beautiful art
£27.99